Do you need to replace all of your missing teeth? Same day dental implant treatments like All on Four are a predictable treatment option for people who want an alternative to dentures.
All-on-4 dental implants (aka "teeth in a day") aren't a cosmetic dentistry treatment; they're a predictable full mouth reconstruction system that's designed to last for years.
When our Jupiter dental implant specialist Dr. Abdo complete an All on Four case, we're able to use just four implants total to support a full arch prosthesis. This offers you big benefits like:
Fewer dental implants needed

Complete tooth replacement across your upper or lower arch

No removable dentures

Lower price for implant costs (per tooth)

Expert level care with an implant specialist

Improved taste sensations

Easier time speaking with your appliance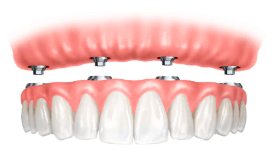 Improved Comfort and Function
Since All-on-4 implants don't cover the roof of your mouth like a conventional denture (which uses suction to keep it in place,) you're able to feel and taste your foods similar to how you did with natural teeth. The "U" shaped contour of the hybrid bridge design only follows the arch of teeth, freeing up extra space. The slimmer design also makes it easier to talk with!
An Efficient Option for Jupiter Tooth Replacement
SEDA has one of the best implant dentists in Jupiter. Dr. Abdo is a licensed prosthodontic specialist, making it possible to provide expanded implant services to our patients. As such, we're able to keep the cost of dental implants down instead of referring you to an off-site specialty clinic for your care.
Teeth in a day like All-on-4 restorations only need four implants total to replace missing teeth. For the best implant dentist in Jupiter, call SEDA Dental! Our dental implant expert is ready to answer any questions you may have.