Are you looking for the best Jupiter dental implant experience? When it comes to replacing missing teeth throughout your smile, an All on Four appliance may be your best option.
Sometimes called "Teeth in a Day", our Jupiter All-on-4 implants are designed for full arch tooth replacement across your entire or upper lower jaw. Instead of wearing a removable denture, your implant appliance is a permanently fixed prosthesis that you'll never have to take in and out at night.
All on Four Implants' Unique Design
Conventional dentures cover the roof of your mouth, creating a suction to help hold them in place. But when you get All-on-4 implants for missing teeth, your appliance is more like an extended dental bridge. The "U" shape follows the natural contour of your dental arch, only covering the areas where your teeth are supposed to be.
The slimmer design of full arch same day implants has big benefits like:
Improved speech

Enhanced taste

No gooey denture adhesive or paste

A permanent tooth replacement solution

Support of your facial tissues

Improved bone health in your mouth
How do They Work?
Instead of needing an implant for each and every tooth that's missing, our Jupiter Board-Certified Prosthodontist, Dr Abdo uses four strategically placed implants in your upper or lower jaw to affix the appliance in place. And since implants are so durable, they're able to support the weight of multiple teeth. That's why you only need about four total (per arch).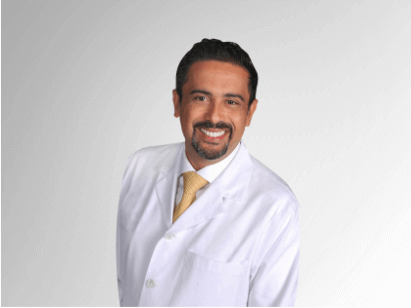 When each of the four dental implants are placed at a key location in your jaw, they're capable of working together to support a full arch of teeth. The "U" shaped hybrid denture is then attached onto each implant permanently, using a special fixture to hold it in place. Once installed, only our Jupiter implant dentist or another specialist can remove them; they don't come in and out.
Once set into your bone, implants fuse into place and become a permanent part of your smile. They're the most successful and innovative tooth replacement in Jupiter, FL.
Although implants are not inherently a cosmetic dentistry procedure, they can enhance the appearance of your smile by addressing open spaces and gaps caused by missing teeth. Each implant crown, bridge, or All-on-4 appliance is aesthetically crafted to give you a beautiful smile that you can feel confident about showing off.
The Best Implant Dentist in Jupiter
At SEDA Jupiter, we have an on-staff Board-Certified Prosthodontist who completes your entire full mouth restoration from start to finish. There's no need to be referred to another Jupiter implant dentist. As an expert in implant therapy, Dr. Abdo has expanded training and resources — that, when combined with his extensive experience — ensures the best possible outcome for your smile's future.
As a specialist, Dr. Abdo has additional years of education and certifications that a general dentist does not. By providing specialty level care at SEDA, we're able to keep implant costs streamlined and enhance the level of patient safety in our offices.
Seeing our dentist ensures a more efficient treatment process, higher success rates, and better predictability when it comes to your All-on-4 procedure.
If you have special accommodations that may affect the outcome of your implant treatment (such as bone loss, extended periods with missing teeth, or a narrow bone ridge,) then it's best to see an expert for your implant placement. Dr. Abdo is able to work with individuals who might otherwise be turned away from other dental practices offering traditional dental implant services.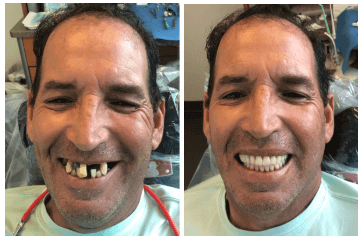 How Much Do Dental Implants Cost?
Most people assume that the price for dental implants is based on a cost per tooth being replaced. Not so! In fact, All on Four implants are more cost effective when it comes to price for implants than it would be to put an individual dental implant and crown in the place of each tooth. Since only four implants are used, the cost of implant treatment is cheaper/lower per "tooth" than it would be going a more conventional route.
The best part? Our Jupiter dental implants are designed to last for a lifetime. With great care and ongoing maintenance, your new implants can last for decades. Since the most common cause of implant failure is a specific type of gum disease known as "peri-implantitis", it's essential to brush and floss around your implants daily. Keeping them clean and free of plaque buildup will help to ensure they last as long as intended.
Do You Qualify for Implants?
Schedule a consultation with our Dr Abdo to find out if an All-on-4 full arch restoration is right for you. Even if you've been told in the past that dental implants aren't an option, working with an expert prosthodontist provides more resources and a better outcome for higher risk cases.

Schedule your full mouth implant consultation at SEDA in Jupiter, FL today for a customized treatment plan!